Rated

5

out of

5
 by
Grumpyoldman1
First impressions of the Dali 7 floorstanders
Piers at the Maidstone branch of RS arranged a demonstration session for us. For this, he utilised a Yamaha RX-A1060 being the closest amp to our RX-A2050, with a pair of DALI 7 front speakers, a DALI Vokal as centre speaker, DALI E-12F sub-woofer and a pair of Zensor 1's as rear speakers. We spent over an hour listening to many genres of music - from classical to heavy rock via Bluetooth from our smart-phones to the amp as well as from a cd provided by RS and a variety of film clips from animated sources as well as sci-fi and action movies. The DALI 7's were every bit as impressive as other reviews had suggested. Very capable speakers with a good bass response, the speakers were punchy when required but otherwise smooth and natural in their distribution and replication of sound. Even though we are still 'running them in', these speakers handle everything that we put through them. Combined with the other DALI speakers we purchased, they have re-awakened our love for music.
14 November 2016
Rated

5

out of

5
 by
Thedodge
Excellent Speakers
Having listened to many different makes of speakers in RS Nottingham the Zenzor 7's won the battle. Great bass and treble response whether listening to music or a full on DTS HD film. Now I have the set run in at home they sound even better and their full bodied sound really comes through. The bass is so good I really don't need the sub-woofer on. Also purchased the matching centre speaker which is tonally matched and equally as good.. David @ RS Nottingham couldn't do enough for me and even though I tried lots of different speakers and amplifiers nothing was too much bother. Will be returning to RS soon for an Amp upgrade
07 November 2016
Rated

5

out of

5
 by
Orchy1234
Excellent service
These speakers were recommended to me by the young lady in richer sounds in Lichfield (she really knows her stuff) I took along my own amp and she spent 2 hours with me trying several different speakers until she told me about these dalis which when I herd I had to have even though they were more than I had intended to spend! Extremely happy with them and fantastic service! Thank you
21 October 2016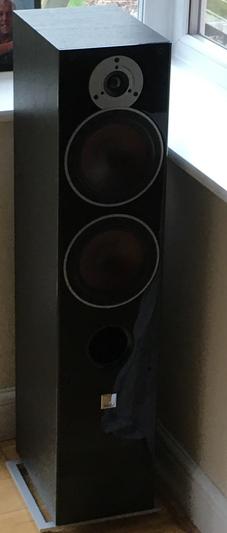 Rated

5

out of

5
 by
Pixel
Brilliant speakers for the price
I auditioned these against the Dali Opticon 6 and the Monitor Audio Silver 6. The Zensor 7 were the cheapest and had the best sound. The 'best' as they were more 'open' than the MA and less tiring to listen to than the Opticon. Thanks Paddy at the Bristol shop who arranged the audition and was very helpful. The Zensor 7 have a lively and engaging sound. The bass is quite upfront and sizeable but not flabby or overbearing. Highs and middle are very detailed and picked out aspects of The Pixies Surfer Rosa that I had never heard before (this being one of my favourite albums from the last 25 years!!). The speakers sounded great out of the box. After 20 hours or so of burn in I worried the bass was becoming too much. Then I realised in my haste to listen to them I had not put in the floor spikes... When I did, a really rich punchy bass that went well with my music (a range from Heavy rock to classical). Also a brilliantly wide soundscape for movies with a nicely detailed sound.
25 July 2016
Rated

5

out of

5
 by
mark11
Fantastic sounding with amazing Bass straight from the box
i original brought the dyn audio 3/7 speakers and after a few days the sound was not for me. the staff at RS Bournemouth were so helpful and i was able to change them for the dali Zensor 7 speakers. I'm so glad i have the Dali's as they sound amazing straight from the box and just get better and better each day of running them in. they are perfect for playing all my vinyl and i have them paired with a cambridge Audio a651 amp and cambridge Audio phono stage. it just goes to prove that the dearer speakers are not always the best. if you are thinking of buying the dali 7 speakers just go and do it,you will not regret it one bit.
07 June 2016
Rated

5

out of

5
 by
MC08
Superb Deal and Super sounding speakers
I bought these speakers to replace some B&W 603 S3 speakers. Totally amazed. The B&W's have always sounded amazing. I didn't expect anything to be able to sound as good with all the genres of music I listen to. The speakers also do a superb job with film, TV and home cinema. If you are looking for a speaker that is very good for all types of use and never dull or too clinical then these are for you. Richer Sounds Leeds were very accommodating and the sales team very helpful. These speakers do need running in. One week in and they sound better than they did the first day - which was very good.
22 May 2016
Rated

5

out of

5
 by
Bluebikeburner
Awsome speakers
Stop thinking about it and get yourself a pair of these !!! I'm no audio expert but I know what I can hear , and these speakers sound unbelievable , I am running them with a Yamaha as 701 amp the bass is lovely and deep I can feel it in my chest and the detail in the treble is fantastic I can hear bits in songs that weren't there before ,in summary totally worth getting they are the bees knees
21 March 2016
Rated

5

out of

5
 by
ds80
Awesome speakers
I've had the Zenzor 7's a few days now and the sound quality is incredible. I got a pair of Zenor 5's on loan while the 7's were ordered in and the difference in sound quality is marked. Not taking anything away from the 5's but the 7s are excellent quality.
17 January 2016