Rated

5

out of

5
áby
Ross51
Great value
This amp is not only a great price but sounds great with my vinyl deck as well, my vinyl sounds just like it should, very little noise and processes the analogue signal well, set up really easy and my speakers [JBLs] match beautifully, for the price a super Amp!
08 January 2017
Rated

4

out of

5
áby
Hezzie
Good build quality great features
Bought this budget amp to replace my Cambridge amp which failed on me after years of good service.found the pioneer to be as good on sound especially as I play a lot of vinyls for a inexpensive amp would recommend
29 November 2016
Rated

5

out of

5
áby
figgy
Great sounding budget amp.
I was looking for a budget amp to replace my Nad 3020 ,bought from richer sounds some 25 years past, it had finally breathed its last. I am very happy with the Pioneer , its a great sounding amp, different from the nad in many respects but not in a bad way. Very happy with amp and service from richer sounds.
14 November 2016
Rated

4

out of

5
áby
exTRIO
Pleased
Not an expert but pleased with the sound via our KEFs and like the dual speaker output that means we can chuck away the existing switch. Website pretty friendly and unit delivered very quickly considering delivery was free.
18 October 2016
Rated

4

out of

5
áby
PaulDR
Value for money
A basic amplifier at a reasonable price. Bought this as a secondary to my main system . A good purchase as an entry level amp but don't expect audiophile reproduction. Pro,s - phono stage input and direct source button . Con's - generally lacking in sound detail and a rather muddy bass which is emphasised when loudness is employed
19 September 2016
Rated

5

out of

5
áby
andyinteractive
An Excellent Entry Level Amplifier
For a budget amplifier this is probably the best amplifier money can buy for the price. The Pioneer A-10-K is a no frills amplifier with a generous 5 inputs including a turntable input but it's sound quality never fails to amaze me. For purists this amp has a direct switch to bypass all tone controls...switch on the 'loudness' and this amp then springs into another audio dimension of it's own. Solid punchy bass and a crisp treble gives this amp the five stars it deserves. Every instrument is filled with detail of which makes this a great amplifier and is as good as amplifiers three times the price! Also a great feature on this amplifier is it's ECO friendly power supply as when the amplifier is left on without any audio feed this will automatically switch itself off after a period of time.
10 September 2016
Rated

5

out of

5
áby
TheGrassman
Best budget amp?
I am struggling to find the words to describe just how good this amp is. I needed a boost to my MAC Mini's sound and this amp now provides the grunt that was missing with a standard set of PC speakers (Creative T40's). Married to a pair of Cambridge speakers (SX-50's) the amp provides a nice tight bass with good clarity through the mid range and into the top end. Separate bass and treble controls if you want to manage the sound, a direct button if you want the sound pure. This model has no remote but at this price this is no issue at all.
07 August 2016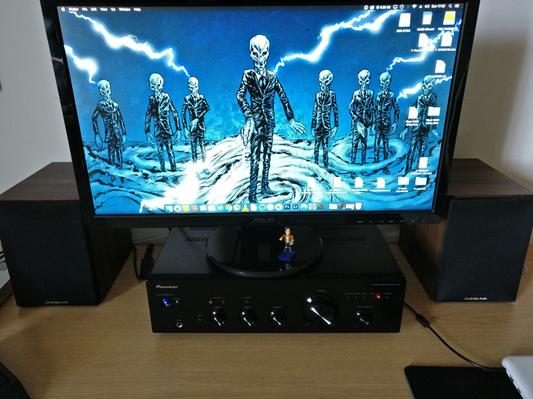 Rated

5

out of

5
áby
Blitzracing
Very punchy amp with no silly frills
Really impressed with this amp for the money. Plenty of lift on the base and treble if you need it in addition to the loudness button, you can even make lame DAB radio sound great. A super replacement for my beloved 3020 NAD amp when it blew up its output transistors- repair the 3020 NAD, or buy a new A-10? No contest, the A10 wins.
09 May 2016